[ENG]Here are the list of players by servers for our Race 3 on Tuesday March 24th
SAME LIST THAN LAST WEEK - Results will be edited on Tuesday (sorry, no time for me before)
PLEASE, COME AT 21:15 FOR CHECK ON YOUR SERVERCOME ONLY WITH YOUR NATIONAL AVATAR !!USE A STADIUM CAR (the best is a national model skin)If you arrive in late on server, NO CHAT ! Begin your race anyway !
TAKE YOUR SCREENSHOT AT THE END OF THE RACE PLS !!! PAGE 1 OR 2 ABOUT YOUR RANKING !
Some advices there about best connection : 
About connection problem
[FR]Voici la liste des joueurs par serveur pour notre 3e course du Mardi 24 Mars
MEME LISTE QUE LA SEMAINE DERNIERE (les résultats seront publiés mardi prochain, je suis absent jusque-là désolé)
SVP, VENEZ A 21H15 SUR LES SERVEURS POUR CHECKN'UTILISEZ QUE VOTRE AVATAR NATIONAL !!UTILISEZ UN MODELE STADIUM CAR (le mieux est un modèle de skin national)Si vous arrivez en retard sur le serveur, PAS DE CHAT ! Commencez tout de suite votre course !
FAITES UNE IMPRESSION ECRAN DU TABLEAU FINAL SVP !!! PAGE 1 OR 2 SELON VOTRE CLASSEMENT !!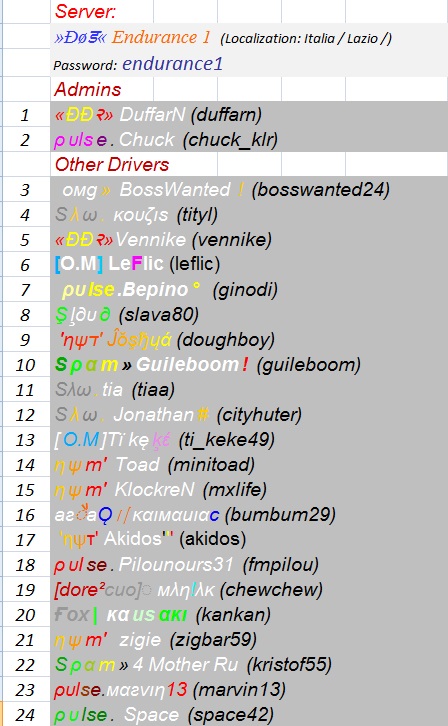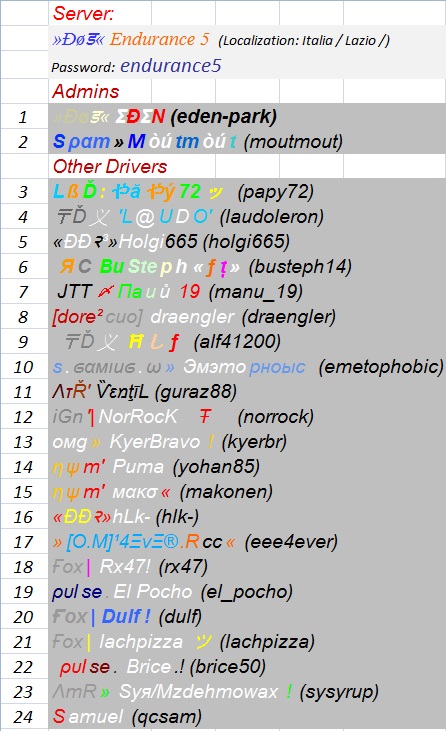 _________________
Pleasure, Fairplay ..... and Rage !!!


Similar topics
---
Permissions in this forum:
You
cannot
reply to topics in this forum