LOCALIZATION OF SERVERS : ITALIA / LAZIO / ENDURANCE (1 to 7)
IMPORTANT : All players, not registered in list ...

FROM WAITING LIST, OR LAST RACE WITH INVALID TIMES ...

GO AT 21.15 on SERVER 7 !!

THANK YOU.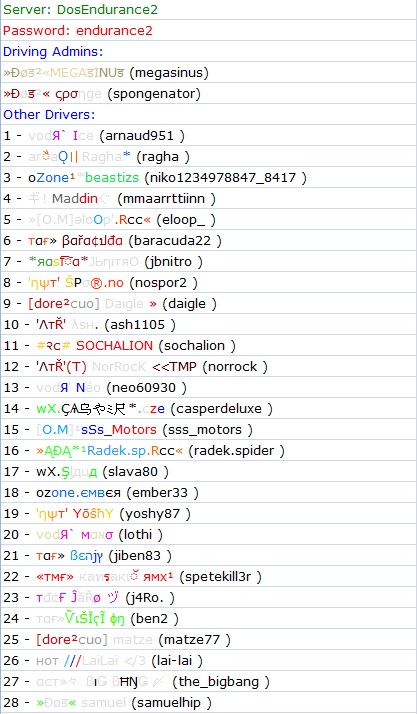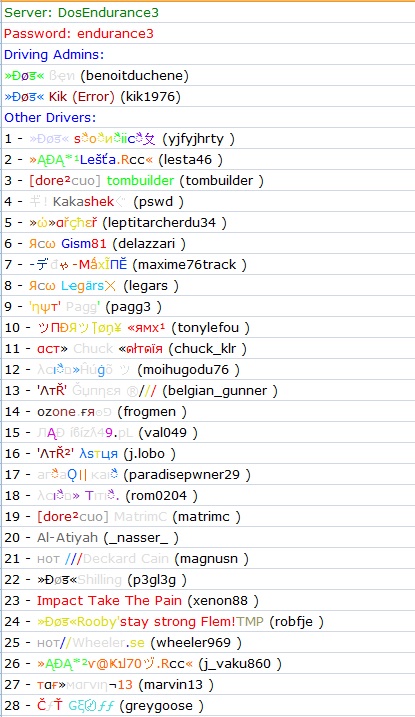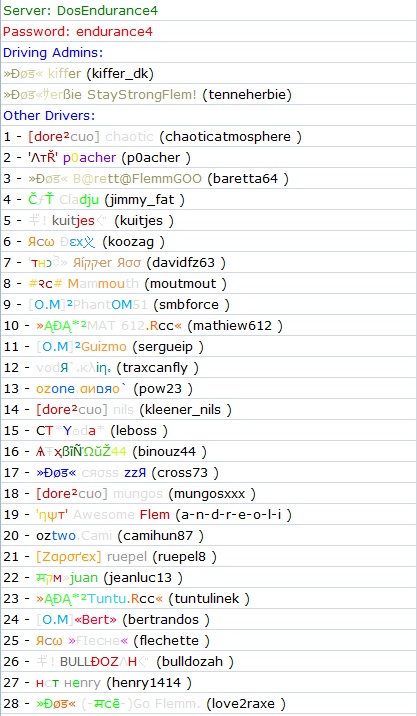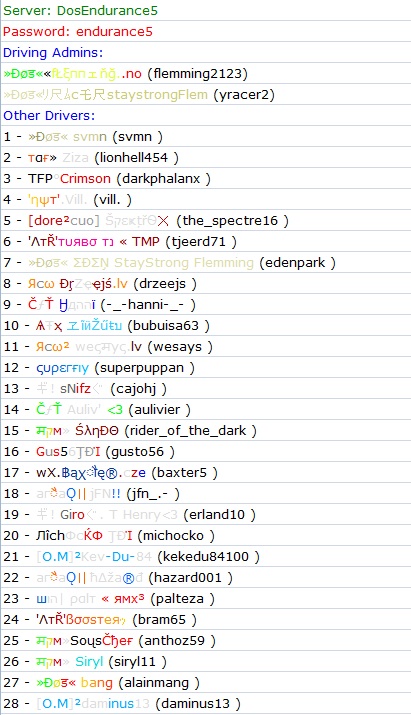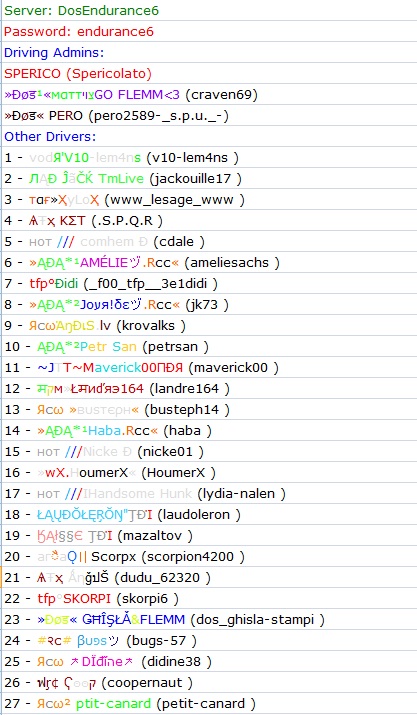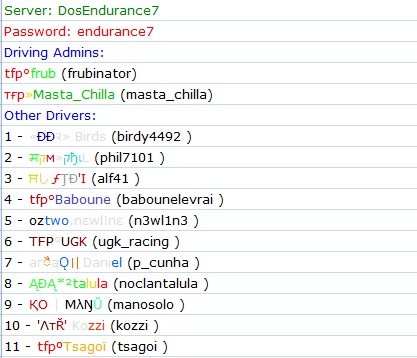 Posts

: 585


Join date

: 2009-03-10


Age

: 49


Location

: Migland



bon, salut les gars.

petit PB, j'étais sur le SRV 4 , 2 tr de WU, normal, la course part, on fait presque un tour et on restart a nouveau. bon ok un gars à eu une déconnéction mais tout le monde doit en patir.

le réglement dit: The tracks will be kept hidden until the day of the race.
At the opening of the servers everybody will have 5 minutes of warm-up.(2laps)

il ne dit pas que l'on doit restart pour un gars qui est déconnécté de plus que Kain aurait remonté cette handicape, peut étre pas la tête mais revennir oui.

moi les gars, déja on part en retard,pas de soucis cela arrive, WU, la course se lance puis on restart, moi j'ai du mal a me concentrer dans ces conditions.

pas cool

well, hello guys.

small PB, I was on the SRV 4, 2 tr in WU, normal, running hand, it's almost a turn and restart again. ok, one guy had a disconnected but everyone must suffer.

the regulation says: The hidden tracks Will Be Kept Until the day of the race.
At the opening of the servers everybody Will Have 5 minutes of warm-up. (2laps)

he does not say that we must restart for a guy who is out of more than Kain would back this handicap can be no return to the head but yes.

I guys, we start already late, no worries it happens, WU, the race starts and then restart, I have a hard time to concentrate in these conditions.

not cool



Posts

: 12


Join date

: 2009-03-08



Yop Yoda,

Nearly all the servers started WU at the same time 21.30... maybe 1 or 2 min delay maximum.. Due to some sections of the track we decided to have a 7 min WU for this race. I don't think this was a bad idea at all.

For Kain disconnection, you are absolutely right that nothing is written in the rules for that. The point is that when a driver (whatever if it's a topdriver or the latest one in the ranking) has a disconnection at 1st or 2nd cp of first round... I really don't think it's a big trouble and decision was taken to restart the race of this server.. We WOULD NOT have the same reaction after 30 sec in the race and we would not have restarted if it happend to Duffarn who's leading the ranking.

Sometimes you don't have to take the rules word for word if i might say so.
Hope i could convice you...




Admin




Posts

: 60


Join date

: 2009-03-02


Age

: 49


Location

: Belgium



alors dommage pour moi, j'étais dans le peleton de tête, a vrai dire troisième et nous roulions depuis plus d'une minute sur la map puisque l'on était sur le point de plus ou moins finir le premier tour. le restart innattendu m'a complétement déconcentraté.

bon je ne sais pas combien il a fini!! mais pour ma part ces dernier.

je n'ai pas grand chose d'autre à ajouter.

bref je sais que cela n'es pas facile pour vous de tous gerer.

BB

so bad for me, I was in the peloton head, a third fact, and we drove for over a minute on the map since it was about more or less finish the first round. I completely restart the innattendu déconcentraté.

well I do not know how it ended! but for me this year.

I do not have much else to add.

I know this brief are not all easy for you to manage.

BB



Posts

: 12


Join date

: 2009-03-08



Sure Yoda, I understand your position ... not simple really.

In this case, we just want to do the best for all, and sometimes like about this example, admins have decided to restart the map for keep the same chance to this player ... Sure it was the best intention about all.

Sorry if it have given you any stress, sometimes we have to take quick decision with many differents parametrs for giving the best to all .... that's our job during our competition.



Posts

: 585


Join date

: 2009-03-10


Age

: 49


Location

: Migland




Similar topics
---
Permissions in this forum:
You
cannot
reply to topics in this forum